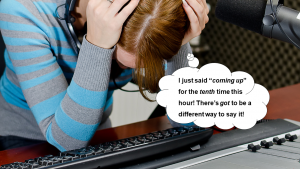 When an announcer is on air, it is important that their continuity is understandable, and gives clear direction to the listener. For example, a phrase like "coming up" is great, because it keeps the listener interested and involved in the programme for a longer time.
However, when the announcer says the same things the same way every time, it's going to get a bit boring…for the listener…and the announcer.
If the announcer is saying the same thing, there's got to be a different way to say it next time, to keep things sounding fresh. That is why it is utterly essential to make some sort of voice break plan on paper. It forces you to ask: How did I say this last time, and How can I say it differently this time?
It is useful to build a library of phrases you can use on air, to perform particular functions of continuity.  Some phrases sound good on radio…some don't. "Ladies and Gentlemen, please put your hands together for Ed Sheeran, who will now perform his latest song for us" falls into the latter category!
I only can suggest three rules for voice break phrases:
It communicates what it is supposed to.
It sounds good.
It is conversational.
I have compiled a list of useful phrases you can use in voice breaks. Please note – this is not an exhaustive list…it is a conversation starter. I want you to contribute phrases that you use, and add to the list.
Back Announce
Brandon Heath, No Turning Back.
That's Brandon Heath and / with No Turning Back.
That was Brandon Heath with No Turning Back.
If two in a row:
Before that / Ahead of that, Big Daddy Weave and Overwhelmed.
If three in a row:
First up, Chris Tomlin and Amazing Grace.
Starting our bracket of three, Chris Tomlin and Amazing Grace.
Station Name
93FM
This is 93FM
You're listening to 93FM
93FM Playing the songs you grew up with (or whatever the station's positioning statement is)
Your Name
Hi, I'm Mark.
Mark here with you.
Mark Walker, playing all your favourite hits.
Mark here, keeping you company.
Greeting
Thanks for joining me
Good to have your company
Nice to have you listening in
Mark, with the pleasure of your company
Thanks for stopping by
I hope your day's going well
Information
It's 21 to 4.
It's 21 degrees outside at the moment
Right now, it's 21 degrees, dropping down to 14 overnight.
Tease (not playing now)
Still to come…music from Matt Maher and Carrie Underwood.
On the way… our programme Discovering the Word.
Over the next 15 minutes…great music from Matt Maher and Carrie Underwood.
Not too far away…our programme Discovering the Word.
Coming up…a classic song that was inspired by a Corn Flakes commercial.
Forward Announce (playing now)
This is Mandisa and Press On.
Music now from Mandisa.
Here's Mandisa, and Press On.
After the break, music from Mandisa. (if playing commercials now)
What did I miss? Hit reply and tell me.
Happy broadcasting
---
:
Monday, October 30th, 2017
:
admin
: