These days, almost everything at a radio station is done using computers – playing audio, doing accounts, researching for a programme, recording and editing….
This means that radio station staff spend hours every day, clicking and typing. If used incorrectly for long periods, keyboards can cause painful arm and wrist injuries like RSI. However, it appears that sustained use of a standard mouse is having even worse effect on our skeletons.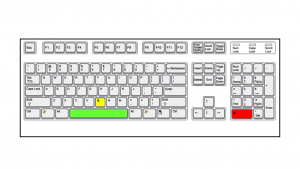 That's why I want to make a case for keyboard short cuts. In most software programmes, there are some features that are used far more commonly that others – and instead of clicking on a menu, and choosing one item, these functions could be accessed by pressing a single key on the keyboard.
In fact, when you are thinking about buying a piece of software, keep in mind this question: can I configure my own keyboard short cuts? Sure, many programmes come with built-in short cuts, but they are not always logical, or easy to remember. And make sure you find out which functions are configurable (preferably all).
Then, when you buy the software, sit down and decide which functions you use the most, and set up short cuts for those.
Let me give you an example. I spend a lot of time recording and editing audio, using the free Audacity programme, which allows for easy keyboard short cut set up. This is how I set some of mine up:
I: Import Audio
E: Export the finished recording
F: Zoom out full
S: Zoom in to the selected section
Alt-A: Amplify, Alt-C: Compress, Alt-N: Noise reduction
R: Record
Space bar: play / stop
+/-: Zoom in and out
Each of these has saved me a mile of mouse wiggles!
For the on-air computer, I strongly recommend using a USB keyboard (a relatively low cost item) – even if you are using a lap top. That way, if the keys wear out, you only have to replace the keyboard, and not the whole computer!
Most automation systems use the space bar to start the next song. It's the most logical choice, since it's the biggest key! I suggest you get some green paint, and paint the space bar green (come on, this keyboard is not going to get used anywhere else – it's going to die in the studio). I would also use yellow for the "Insert Voice Break" short cut key, and red for "Stop song."
What works for you?
Reply below.
Merry Christmas, and Happy Broadcasting.
James
---
:
Wednesday, December 14th, 2016
:
admin
: