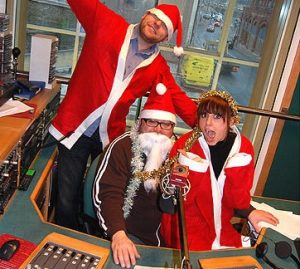 In over half the world, Christmas is the most important time of year. Our listeners celebrate Christmas, and so should we.
Let's look at some ideas for programming on your station this special season.
Have a Christmas songs category that you pull out every December. There's a huge range of Christmas music out there. Try and choose Christmas music that fits with your music format. However, at Christmas it's surprising how much music is universal. Even a rock format could get away with occasionally playing "Grandpa Got Run Over by a Reindeer."
Every year, new Christmas music is being produced. Don't let your Christmas category become old and dusty. Add new songs every year, but make sure you keep the old favourites!
Design special Christmas music clocks. In early December, include just one Christmas song per hour. As you get closer to Christmas, increase the frequency. Some stations play 100% Christmas music on Christmas Day, but do whatever will suit your target audience.
Make a point of promoting local Christmas events, and if possible, become the sponsoring media company of an event (that way your name is on all the publicity). As part of this, you may get the rights to broadcast live from the event.
There are usually many humanitarian schemes at Christmas – for example, presents for children of prisoners, carolling in rest homes and food packages for the Salvation Army. Become involved with one…or do one yourself. Make the station the drop off location for gifts. Give free air time for promotion. When your listeners hear your involvement in something like this, the payback will be better than just income!
Record Christmas messages to the listeners from local celebrities – mayor, politicians, community leaders, media or sports personalities, musicians…your breakfast hosts! Package the recordings with Christmas music, and play them often on air. Keep them relatively short – 10 to 20 seconds is perfect! Get them to start with "Hi, this is…" and all the better if they say your station name in the message!
To help get people 'in the Christmas spirit,' produce or download special Christmas radio spots. These may be either designed to make people feel good, or to make them think.
If you are a Christian radio station…this is your season! I know it's cool to engage listeners where they are at spiritually. But, hey – the Christian message is why you exist! Christmas is the one time of year when the world comes to you! For the month of December, you have full permission to use the name of Jesus as often as you like. Do it!
These are some ideas. Right now, there are lots of broadcasters out there thinking "what am I going to do this Christmas?" Help them out…Post your ideas. Tell us what has worked well for you.
Happy Christmas Broadcasting
James
---
:
Wednesday, November 30th, 2016
:
admin
: