In order to achieve your programming goals, you want to get more people listening to your station, and once they are listening, to keep them listening. Simple…but not easy. Even the big, well-resourced stations have to work very hard to keep their listeners.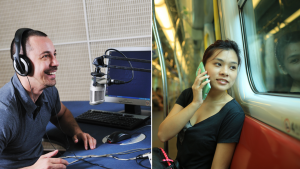 Apart from continually refining and improving your on-air programme, the main way to build and maintain your audience, is through incentives – giveaways and competitions. This is not selling out, and it is not being frivolous! It's a proven way of maintaining your audience, in a fun and interesting way. Here are a few thoughts and ideas:
Keep it relevant to your target audience. Choose competitions that they will enjoy; choose questions they will know the answers to; and choose prizes that they will appreciate.
Some competitions are specifically designed to keep your existing listeners. Promote these heavily on your station – announcer inserts and recorded spots.
Some competitions are aimed at increasing your audience, so you need to have prizes that will attract potential listeners. You will need to promote this competition externally (ie: in other media – social media, billboards….)
If possible, try not to pay for prizes. Approach a company, and offer them promotion in return. That means that every time you promote the competition or run the competition, their name is mentioned: "Don't forget, you could win that holiday for two, courtesy of ABC Travel Ltd." If the prizes are of a higher value, you could offer them a season of free radio commercials as payment. This is called 'contra.'
Companies are always looking for ways to promote their products or businesses, and are often happy to give you small prizes as on-air giveaways. This comes out of relationship with the business – usually existing advertisers. The station I worked for had a 'prize cupboard', full of accumulated stuff for giveaways – CDs, books, health products and chocolates! These can be used as needed for daily competitions.
People love free stuff. If an advertiser is happy to give you enough product, use that as an incentive. Get people to visit the station, or come to a special station promotion event, to receive (for example) a free T-shirt.
Keep an ear out for live concerts and events in your area that your audience would enjoy (emphasis on that last part). Approach the promoter and ask for some free tickets. These make great prizes, and it gives lots of publicity for the event. Movie tickets are great too!
What sort of activities do you have for competitions? The variety is as wide as your creativity! I have heard some great ones: on-air karaoke, make a caricature of the breakfast hosts out of play dough, answer the question and then say a number to determine which prize you'll get… Just be deliberate in how you plan it, so that you get the response that you want from your listeners. Do you want them to phone in live on the programme, send a text, go to an event, do something, send you a video… Remember, to keep it relevant to the people you are trying to reach.
Competitions are fun! Make sure your announcers sound like they are having fun. It's all part of building relationship with your listeners.
There is much more to talk about. Do we take callers to air (do we even own a telephone interface!), do we record them off air, do we need a broadcast delay unit, do we have enough staff to run this competition. Another time!
Go ye and get competitive, and happy broadcasting.
James
---
:
Wednesday, August 31st, 2016
:
admin
: