When you are building a radio station music library from scratch, it is important that you have a clear picture of what will define your station sound. One helpful tool in this process, is the use of core artists.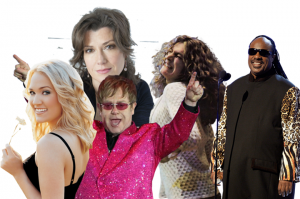 A core artist is one that is well-known, and easily associated with your chosen music genre. If your genre is 00s music, your core artists may include people like Black Eyed Peas, Justin Timberlake, Pink, Lady Gaga, Rihanna, Britney Spears and Kelly Clarkson. If your music format is classic jazz, your core artists may include Ella Fitzgerald, Count Basie, Dave Brubeck, Miles Davis and John Coltrane. A core artist could be described as an artist your music library can't live without.
Once these are established, go and do a bit of research. What were their most famous songs? (Greatest Hits albums can be useful here) Which songs are most likely to get asked for in a request programme?
How many songs by each core artist? Add as many songs as you wish. However, I recommend you limit the number of songs by each core artist in your "active" library (perhaps ten or fifteen at any one time). Keep all the others in your "inactive" library (ie: a holding folder in your computer system), for special features and request programmes. Occasionally, for each core artist, switch a few active songs for inactive songs, to keep your station sounding "fresh."
Make sure you establish artist separation rules at your station. This determines the minimum time between songs by the same artist – especially core artists (eg: a minimum of two hours between songs by Louis Armstrong). Again, a bit of research is useful here. If your average listener tunes in for two hours at a time, you can give your core artists a two-hour artist separation. That way your listeners are likely to hear your core artists (who are hopefully their favourite artists) once during their listening period.
If you are broadcasting on the Internet, your broadcast provider should be able to give you detailed listener statistics that will be helpful to you in this.
Tomorrow, we will look at high rotation.
Happy broadcasting!
---
:
Thursday, August 10th, 2017
:
admin
: