Promotion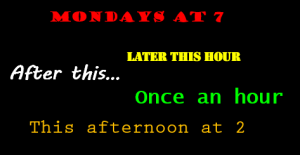 Success for a radio station, is getting listeners…and keeping them! One of the best ways of doing this, is giving them a reason to stay listening.
A station needs to promote its features and programmes, so that people will make a point of listening in at those times. Here are some ideas about how to do it.
1: Produce some Station Promos. A Station Promo is a commercial that advertises a programme on this station. It talks about the programme, maybe it includes a short clip from the programme, and it says the broadcast day and time. A Station Promo is usually 30 seconds in duration. Produce one for each of your programmes and features, and schedule one per hour, 24/7.
2: Produce some Promo Station IDs. A Promo Station ID is…a Station ID (see #2 in this series). The only difference is that it promotes a programme…like this: Keep your family fit and healthy. Family Care, weekdays at 10am and 8pm, here on XYZ Radio. Schedule them as Station IDs.
3: Record Voice Tracks (see tomorrow). Record hourly voice tracks that tell the listener what is coming up over the next 60 minutes.
4: Publish a Programme Guide on your radio station web site.
Anything you disagree about? Got something to add? The Comment button is below.
We'll look at Voice Tracking tomorrow.
Happy broadcasting!
---
:
Thursday, September 14th, 2017
:
admin
: