Spoken Features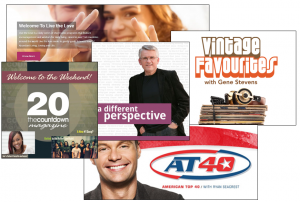 Perhaps the strength of your station is your music format. Of course, you don't want to mess with that. Play the right music, and play it as much as you can.
However, spoken features (ie: programmes) can really enhance your station. Choose programmes and features that fit your station's format. For example, if you are a country music station, you may wish to play "American Country Countdown" or "God's Own Country" every week. There are lots of radio programmes available – some you can download for free, others you can play with permission. Or…create some of your own.
Sometimes short spoken features (ie: under two minutes) can break up the music a bit, and add variety and interest to your station. These can be thought provoking spots like Bernie Dymet's "Just a Minute," or features like "Today in History" or even light-hearted spots like CNN's "You Can't Make This Stuff Up." Shorter programmes can be scheduled more often.
For each programme, make sure you play it at the same times each day or each week. That way, the listeners know when their favourite feature is coming up. Also, don't be afraid to repeat programmes. Remember that different people are listening at different times of the day.
IDEA: Get a hold of a large number of a particular short spoken feature. Put them in a folder, and get your automation player to schedule one every two hours. Make sure you play them in sequence so all the episodes get played. Then, find a different spoken feature, and schedule that every alternate hour.
Hint: Try and choose programmes and features where new episodes are regularly being produced. Download and add these to your system often. This way, your stock of programmes will not grow stale!
We'll stay on this topic tomorrow, as we look at special music programmes.
Between now and then…I'd love to hear your comments.
Happy broadcasting.
---
:
Thursday, September 14th, 2017
:
admin
: