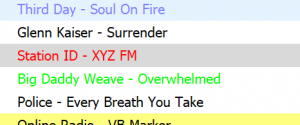 In my country, all radio stations are required by law to identify themselves a minimum of once per hour. OK, that's the legal requirements…but what about the relational requirements?
Come on folks, radio is a relationship…with real people. If you phone someone and don't identify yourself pretty quickly, the other person will hang up. If a listener doesn't find out who they are listening to within five minutes, they will probably switch off.
Create Station IDs. These are very short recordings that make a one-sentence statement about the station, ending with the name of the station. They can have music behind them; they can have sound effects; or they can just be a voice on its own (which can sound really good, by the way). Create a whole lot of IDs – maybe ten to fifteen to start with. Add new ones regularly.
Station IDs are an important part of your station's image. Choose the right person to voice your IDs, and use only them. Consistency is very important.
Schedule your automation system to play a Station ID at least once every three songs (every two songs is better). If you have commercial breaks, play a Station ID at the end of each commercial break.
Here is a link to a training video on voice-only Station IDs.
Here is a link to a training video on Voice and music Station IDs.
Here is a link to a training video on Station IDs with special effects.
Next, we will look at spoken features in an automated programme.
Happy broadcasting!
---
:
Thursday, September 14th, 2017
:
admin
: