USB microphones are a wonderful innovation. They allow a media person to make quality recordings anywhere, using a simple microphone/lap top combination. In effect, they turn your lap top into a portable studio. So, wouldn't it be great to have a lap top and two USM mics as a portable interview studio!
When USB microphones were still very new, I contacted a manufacturer and asked if it was possible to record two microphones on the same computer at the same time. They said it was not possible at that stage.
When you are recording an indoor interview, or making a multi-host programme, it is essential to have one microphone for each person, and then some means of balancing the volume levels. So, given the above response, I went back to recording using standard microphones and a small hardware mixer.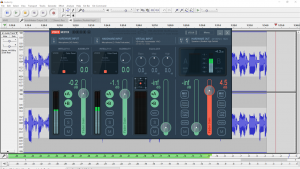 However, I'm delighted to see that technology has caught up, and a solution is available.
VB-Audio has come up with a fairly easy-to-use software mixer called Voicemeeter, which can recognise and control two USB microphones at the same time. It installs itself as an audio device on your computer, so recording software (like Audacity) can recognise it. At the top of each audio channel, you select your audio source, and you should have audio. It operates just like a hardware mixer, and each device has a sliding volume control, as well as a master output volume.
In the screen shot, Voicemeeter is recording directly into Audacity.
I did a test run using a Rode Podcaster and a Zoom H2 at the same time. Click here to listen to an audio sample.
Voicemeeter also has a larger sibling which can handle more audio sources, called Banana.
Both programmes are donation-ware.
So, switch on, plug in, and audio out.
Happy broadcasting
---
:
Friday, April 20th, 2018
:
Trainer
: