Perhaps you are producing a car commercial that needs a 'honking horn' in the background. Or maybe you are making a short drama, and you need beach sounds and an aircraft taking off.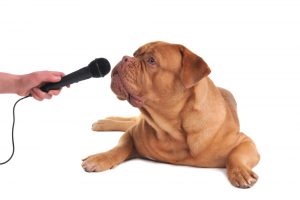 You could always take a condenser microphone out, and record the sounds yourself. But that is not always practical (I don't like your chances with the dog on the left). You could buy some sets of sound effects, but that's not possible if you don't have the budget.
Thankfully, there is a range of free sound effects available on line. Many of them are excellent. In some cases, you can download for free and use the sounds no questions asked. In other cases, you need to sign up to the site to begin downloading.
Just read the fine print. Some will allow home use only, while other allow media use. Some will ask for some kind of attribution.
Here is a small list of free sound effects download sites to get you started.
Happy SFXing!
Freesound
https://freesound.org/
Audiomicro
https://www.audiomicro.com/free-sound-effects
There is one section of free sound effects. The rest are for purchase.
Zapsplat
https://zapsplat.com
SoundBible
http://soundbible.com/
Soundeffects+
https://www.soundeffectsplus.com/
freeSFX
http://www.freesfx.co.uk/sfx/
You Tube
https://www.youtube.com/audiolibrary/soundeffects
Even You Tube has a handy range of sound effects for use in videos.
---