I often do radio training together with a colleague from Canada; I'm from New Zealand, so together we can help learners gain an interesting spectrum of best-practice approaches to their radio show hosting.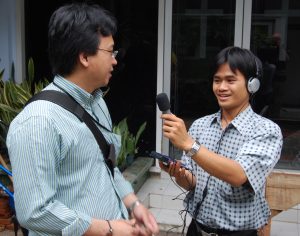 This week it's an ethnic minority in an Asian country. Most of the students have some tertiary education (unusual, in my 25+ years of media experience in Asia). But backgrounds notwithstanding, every one of them was eager to learn interviewing skills, and nervous about putting those skills into practice.
Giving new presenters an overview of the skills needed just doesn't do radio justice. Theory isn't enough. So, with a few principles outlined on the screen, I asked them to interview…each other. I chose a topic that I thought everybody might be able to talk about, and set them to work. The results were mixed, at best!
That's where my colleague's input came in handy. I know this stuff…but I sometimes forget the obvious. Or, to say it another way, I don't see the forest for the trees. I was busy pointing out principles of good interviews, and missing one of the most important: play to your strengths. So, after coffee break, students got to try another interview—but this time they were asked to interview each other about a subject their "guest" already knew a lot about. An electrical engineer was asked how to make a basic electric circuit; a singer was asked how an eager parent can get a son or daughter into the profession. A table-tennis enthusiast was invited to share how a player could improve her or his game.
These second interviews were a roaring success. Why? Because students 'chose' guests who knew what they were talking about. And that's the essence of a good interview: select the right guest. If you want expert information, ask an expert. If you want an emotional reaction, ask somebody who has been through a traumatic personal experience. If you want an opinion, ask somebody who doesn't like the fact that the noisy new highway passes near their backyard.
In training, as in the studio, choosing the right guest is essential to a successful interview. We play to our own strengths as good presenters by finding interview guests who can and will speak about the subjects they know best…and by taking time, ourselves, to learn about that subject so we can ask intelligent questions. That way we let our guests play to their strengths, as well.
Happy broadcasting!
Janice Reid
---